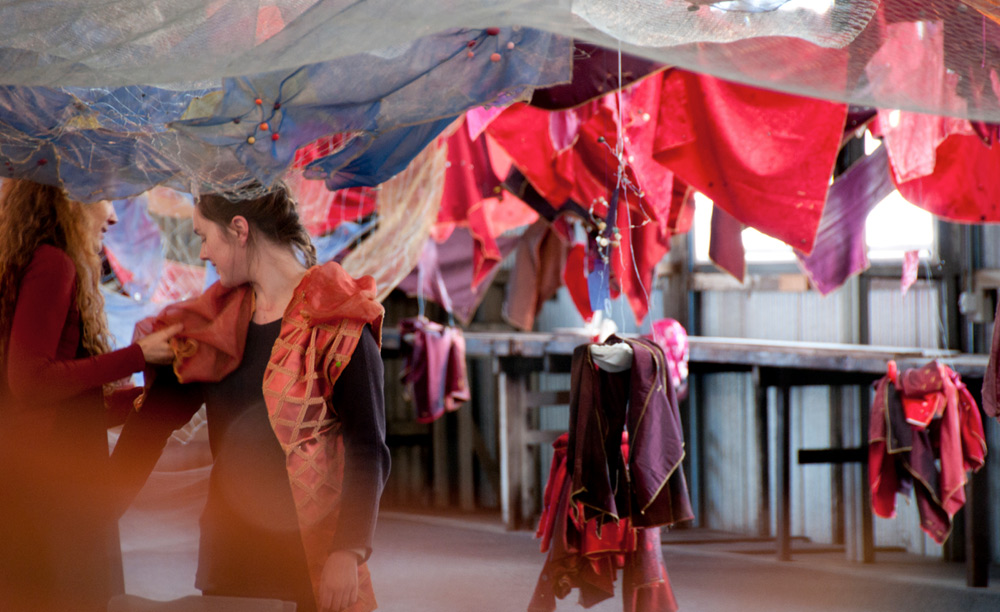 Stitching Time: A Collective Fashioning (2012-2013)
Stitching Time is a textile installation that brings together a magnetic architecture; a proposition to design garments onsite; and a collective experience of taking-time. It is based on three conceptual trajectories: 1. The slow food movement – bringing together a focus on duration and a communal process; 2. A critique of prêt-à-porter fashion that predefines both the cut of the fabric and the shape of a body; 3. A proposition that the creation of a relational milieu activates an architecting of mobility that reshapes experiential spacetime.
Stitching Time encourages an ethos of duration. Composed as a sculptural installation that plays with the perception of light through colour, it is conceived as a choreographic proposition that encourages different modes of movement and participation. Pathways, resting spots, intensities of colour and form invite the participant not only to play with the fabric – to design garments – but also to move at different rhythms. Those participants who decide to spend some time in the work are invited to create their own designs with the fabric. Each piece of the collection (called Folds to Infinity) is designed to combine and fold to create any kind of garment. Because each piece is individually cut, no two pieces of the more than 1000 pieces are the same. Each piece is rendered connectible to other pieces and to the mobile architecture through magnets, hooks, eyes, buttons and button-holes. These garments can be created over several visits with the help of the artist and assistants: there is no rush to "move on" to the next participant, a slowness again foregrounded as a mechanism to challenge the contemporary capitalist ethos of shopping: "spend money, not time!" Each completed design will be given to the participant as a gift.
Stitching Time attempts to reticulate a politics of touch that enables what Gilbert Simondon calls a collective individuation. Because the multiple cuts and their button laden surfaces do not connect in pre-composed modular fashion, and because the magnets are so powerful, often connecting across compositions (connecting to belt-buckles, to the metal infrastructure or to the garments created in their midst) connectibility is continuously "troubled." The hope is that this can generate an opening for a collective participation, a relational atmosphere of collective fashioning. Stitching Time is ultimately not about finding the perfect fold (the garment, the architecture, the light/colour effects), but about generating relational fields, fields that recompose what a body can do, fields that generate bits of story-telling, fields that recast how strangers interact. The site of art becomes a site for potlatch: for the giving of time and art. In the end, the artist will be left without the art object, but with the lure of time stitched.
Exhibitions
September 2013 Stitching Time: A Collective Fashioning (traces). 5th Moscow Biennale, Russia.
June-September 2012 Stitching Time: A Collective Fashioning. 18th Biennale of Sydney, Sydney Australia.
Press:
http://www.theartnewspaper.com/articles/Sydney-Biennale-aims-to-stitch-us-all-together/26747
http://rbth.ru/arts/2013/09/20/moscow_art_biennale_offers_a_model_for_the_world_30009.html
Stitching Time: Traces (Moscow Biennale)
*images by Sam Spurr